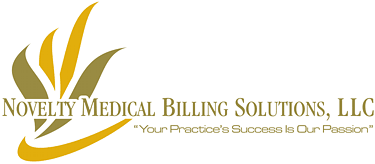 Since 2007, healthcare providers have relied on NMBS, LLC expertise for 5Star Medical Billing & Accounts Receivable performance. We'll honor and earn your trust as well as your business by:

Revenue Recovery Initiative - Decrease 60 Days & Over Accounts Receivable Guarantee; Increasing cash flow by at least 33%,

Innovative Billing Initiative - Contest Unpaid, Denied and Partial Paid/Reduced Claims,

Invest In Your Business - No Administrative Costs, Employee Benefits, Liabilities, Overtime, Raises, Vacations, Training or Unplanned Absences,

Virtual Employee - Billing From Your Software, and,

Reducing Risk - Alleviating Billing Pressure & Stressors,

OIG/HIPAA Compliant - First and Foremost....

We'll alleviate all the probable circumstances and facilitate the billing aspects, thus providing peace of mind. We offer comprehensive services to meet the expectations and performance needed for a viable practice. We put our billing expertise at work for you.

It's simply up to you to take the next step. We want to earn your trust as well as your business...

Call or Email Us Today! 866.531.8533